Wat Arun is one of Bangkok's most important Buddhist temples. It's named after Aruna, the Hindu god of dawn, and its distinctive spires, or "prang" make it one of Thailand's most identifiable landmarks.
At around 82 m (270 feet) in height, the central prang of the Wat Arun Temple is the highest in Bangkok. The Temple of Dawn, as it's alternatively known, was constructed in the style of Khmer architecture, recalling the sanctuaries of Cambodia. The tallest central prang is said to represent Mount Meru, which is the center of the world in Tibetan Buddhist cosmology, with the four surrounding smaller prangs each housing images of the four guardian gods.
All five prangs are covered in porcelain mosaics and bits of seashells which give the temple a gleaming iridescence when the rising sun illuminates it at dawn. Up close, you'll see that the tiles are decorated with exquisite floral patterns of many different colors; and inside the bot, or ordination hall, you'll find a number of impressive murals depicting scenes from the life of the royals.
We recommend visiting Wat Arun on the same day that you visit the Grand Palace and Wat Pho, as it's located a very short boat ride across the Chao Phraya River from the two. For the best views of the sanctuary's distinctive architecture, take in the view from the opposite riverbank, whether at sunrise, sunset, or during the day - it's well worth it!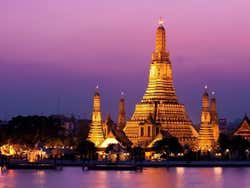 Schedule
Daily between 8 am and 5:30 pm.
Transport
Cross the river by boat (Tha Tian Express, tickets around 3 THB (US$ 0.10)).