If you're planning a shopping trip in Bangkok, don't miss MBK. This immense mall has 2000 stores spread over eight floors, plus a great food court.
When it was opened in 1985, MBK was the largest shopping centre in Asia. It remains to this day an enormous mall, with over 2000 shops and 150 restaurants spread across eight floors. Amongst its diverse stores, you'll find clothing, electronics - it's the cheapest place in Bangkok to buy mobile phones - furniture, leather goods and more.
Be aware: there are more fake items than authentic goods, and while it may seem a good idea to stock up on knock-off designer labels or pirated films, do remember it's illegal to cross borders with them and you can get fined! While it's one of the cheaper places to shop, items like local souvenirs may still be pricey, and there's always room for you to drive a hard bargain.
As a tourist, you can get a special discount card, which will allow you to get 5-30% off in most of the stores in the MBK shopping center of Bangkok. To get it, ask at the information booths on the first and second floors.
As well as shopping, MBK is home to one of the best food courts in the city, as well as a large cinema showing original version movies, karaoke bars, arcades and even occasionally free cultural events like Muay Thai fights! Whether you've come to buy something specific or just for a wander around, you'll be immersed in the authentic day-to-day life of the capital as you peruse MBK with the 10,000 other daily visitors.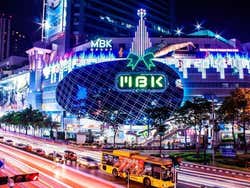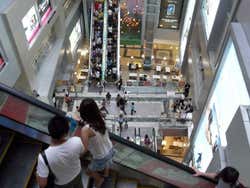 Schedule
Daily: 10 am to 10 pm
Transport
BTS Skytrain Silom line to National Stadium