One of the largest in the world, Bangkok's Chinatown dates back to 1782 when a large Chinese population flocked to the recently founded capital of Thailand.
Bangkok's Chinatown is made up of bustling streets filled with authentic restaurants, gold and jade jewellery shops, and neon signs in Chinese characters as far as the eye can see!
From Buddhist temples to Christian churches and even a Sikh Gurdwara, this area of the Thai capital - which is roughly contained within the Samphanthawong District - is a true treasure trove of culture and history.
Visit Wat Traimit for the 10-foot-tall (3 m) solid-gold Buddha statue and Wat Mangkon Kamalawat for its authentic Chinese Buddhist architecture. The latter also hosts the annual Vegetarian Festival around September or October, and vendors can usually be found near the temple selling delicious dumplings all year-round.
Not all of Chinatown is Chinese... Portuguese sailors also settled here in the late 18th century, and their influence can still be seen in the Holy Rosary Church and the Santa Cruz Church, near to which you'll find a couple of houses still selling Portuguese-style cakes and sweets.
Look no further than Talat Mai for your grocery shopping. The "New Market", as it translates, has been there for a good couple of centuries, but it's still thriving. Find exotic spices, sauces and other dried goods, as well as a handful of stalls selling incense and other bits used for Chinese Buddhist ceremonies.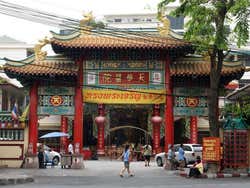 Transport
The nearest metro stop is Hua Lamphong, on line 1.
By boat, get off at the Rajchawongse stop.