Jim Thompson House Museum
The jungle-surrounded former home and art collection of legendary silk entrepeneur Jim Thompson, who mysteriously disappeared in 1967.
American businessman and architect Jim Thompson, born in Delaware in 1906, ended up in Thailand after signing up to the US Office of Strategic Services (which became the CIA) during World War II. Having fallen in love with Southeast Asian art, and especially the handmade silks, he decided to settle in Bangkok following the war. Seeing the value in the beautiful silks, he set up a trading business: the Thai Silk Company Limited, which is generally considered to have revitalised the all-important Thai silk industry.
As well as being a successful entrepreneur, Thompson was an avid art collector, and his former home - and now museum - was created and designed by him from a number of derelict traditional Thai homes that he took apart and reassembled in its current spot in Bangkok.
The Jim Thompson House Museum makes for an interesting visit not only for its fascinating architecture, harnessing some of the greatest features of Thai building, and the traditional art and silks exhibited inside, but also because of the mysterious fate of its eponymous former resident.
When visiting friends in Malaysia's Cameron Highlands in March 1967, Thompson disappeared. More than five hundred people searched for the entrepreneur over the course of several months, and while many different theories have attempted to explain his disappearance - from kidnapping and murder, to him willingly becoming a spy in the Vietnam War - the reason remains a mystery over fifty years later.
Whether you're looking for clues to the mystery or just want to explore his beautiful jungle-surrounded former home, the Jim Thompson House Museum is definitely worth a trip!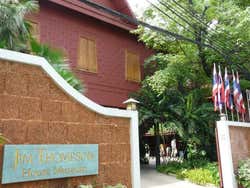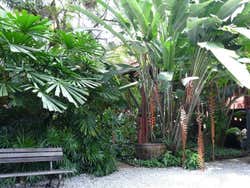 Schedule
Daily from 9 am to 6 pm, with compulsory tours every 20 minutes.
Price
Adults: 150 THB (US$ 4.40).
Students (with valid ID): 100 THB (US$ 2.90).
Children under 10: Free.
Transport
Take the Bangkok Metro's Silom Line (dark green) to National Stadium.