Opened in 1990, CentralwOrld is the eleventh largest shopping centre in the world, and is home to around 500 stores, a 5 start hotel, a 15-screen cinema, two Hindu shrines, arcades, an ice rink and more!
Since its opening in 1990, CentralwOrld (spelled that way on purpose) is a massive shopping complex in Bangkok that has been developed and extended a number of times, giving it the title of eleventh biggest mall in the world. It has eight floors, parking for 7000 cars, a convention centre and a hotel, as well as all the usual shops, restaurants and entertainment centres.  
Unlike MBK, CentralwOrld is not a place for haggling. Prices are higher and you'll recognise many big-brand stores here, like the world's third-largest H&M for example. As in all other shopping malls in Bangkok, tourists can get a discount card at the information office on the second floor.
A paradise for avid shoppers, this mall is a great place to visit if you're looking to do some serious buying or if you're feeling like a break from the crazy streets of Bangkok. And if retail therapy doesn't soothe your soul, the complex also has two Hindu shrines.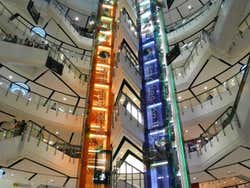 Schedule
Daily: from 10 am to 9 pm
Transport
Skytrain BTS to Chit Lom (Sukhumvit line) or Siam (both lines)