It wouldn't be a trip to Bangkok - the "Venice of the East" - without a cruise on the city's canals, or "khlong" as they're known in Thailand.
Historically the main way to get around Bangkok, nowadays the city's canals - or khlong/klong in Thai - have largely been replaced by cars, motorbikes, and paved roads. However, a network of them remains, mainly to the west of the Chao Phraya River in the Thonburi district. They're used by local commuters as well as tourists, and they're a great way to see the city from a new perspective.
While it's possible to jump - quite literally, they don't stop for long! - onto a local commuter boat, we recommend cruising the canals on a tourist boat. This way, you'll be taken to see the sights on the waterfront, rather than just traveling from A to B. The traditional long-tail canal boats depart from a few different piers, although the most popular are Tha Chang and Tha Tien, located on Rattanakosin Island on either side of the Grand Palace and Wat Pho.
Canal tours usually take visitors along Khlong Bangkok Noi, a large tree-lined canal whose banks are dotted with historic temples, and the smaller Khlong Mon, where you'll see gravity-defying waterfront houses on stilts. Most routes will also cruise by the Royal Barges National Museum, Wat Arun, and other riverside temples.
Top tip: if you go on a canal cruise on the weekend, you'll have the option to visit the incredible Taling Chan Floating Market, a unique place to do your food shopping!
Canal tours can be chartered for as little as an hour, however, if you want time to get off and explore the sights, we reckon you'll need at least an hour and a half, or two hours.
Bangkok's unusual markets
If you like the sound of visiting the floating markets on Bangkok's canals, take a look at our Railway & Floating Markets Tour. Not only does it take a boat trip along the canals to visit one of the city's most popular floating shopping areas, but you'll also visit a market located on the train tracks!
You might also want to check out this sightseeing boat ride around Bangkok:
​Also highly recommended is this Big Buddha + Bangkok markets combo tour: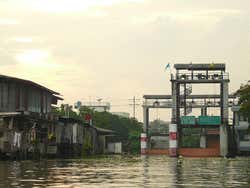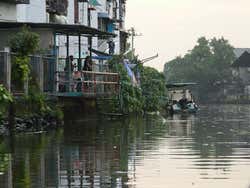 Schedule
Daily:
Commuter boats from around 5:30 to 6 am until 6 to 7:15 pm.
Tours usually between 8 am and 5 pm.
Price
Commuter canal taxis cost as little as 9 THB (US$ 0.30) - 19 THB (US$ 0.50); longtail tourist boats on a tour of the canals cost around 1,500 THB (US$ 43.10) for 2 hours.
Hidden Gems of Bangkok Tour 2,100 THB (US$ 60.40)
Transport
Get off the Skytrain at Sapham Taksin (Silom - dark green - Line) and get a bus, boat or taxi up to Rattanakosin Island.