Bangkok could quite legitimately claim to be the massage capital of the world. With spas and schools offering endless different types of massage on every corner, which do you choose?
Thai massage, according to traditional teachings, should be part of your normal health and beauty regime, and not just a special pampering treat! Traditional Thai massage combines acupressure, Indian Ayurvedic therapies and yoga positions and often uses herbal compresses. These days, however, pretty much every type of massage can be found all over the city, and you're sure to find something to suit you - whether it's for your health or just to relax after a long day walking around Bangkok:
Traditional Thai Massage: you usually remain fully clothed and lie on a basic mat on the floor. The body is compressed, pulled, stretched and rocked  - this isn't for the faint hearted! 
Foot massage: just focuses on the feet and lower legs. Sometimes including reflexology techniques, these can lean more toward traditional Thai techniques as above, or might include oils and lotions.
Oil Massage: most like the massages you're likely to receive in other parts of the world, this is the most relaxing option - although it depends on your masseuse!
As you can imagine, with so many options to choose from, prices do vary wildly. Spas and massage parlours are meant to be registered with Thailand's Health Ministry, but only a very small percentage actually are. Be wary of the cheapest of the cheap - we always say, if the price seems to good to be true, it probably is. Hotels and luxury spa resorts will be the most expensive, but you'll know what you're getting, and they'll have long menus of various options. 
If you'd prefer a more traditional option, Bangkok's traditional massage schools are a great option. They're usually well-reviewed and are a lot more economical. As one of the country's main training centres for the healing tradition, Wat Pho temple complex has a famous massage pavilion and offers quality services from 420 THB (US$ 12.10) an hour.
Can't get enough of Thai massage? If you're staying in Bangkok for a while and feel like learning a new skill, Wat Pho also offers courses so you can learn the principles of the healing art yourself!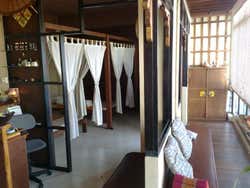 Schedule
Most spas and massage schools are open between 9 am and 8 pm.
Price
From as little as 420 THB (US$ 12.10) an hour.