One of the largest weekend markets in the world, Chatuchak has over 15,000 different stalls selling everything from food to clothes to pets. You're sure to find something you want!
At Thailand's biggest market, and one of the largest weekend markets in the world, as you'd expect, you can find pretty much anything your heart could desire - as well as a lot of things you really don't want. From vintage clothing to traditional Thai handicrafts and - unfortunately - illegally-sold birds and other pets, the 15,000 different stalls make for an incomparable shopping experience.
It's only open on weekends, so if this sounds like the place for you, make sure to organise your trip round the visit. While it is open all day, and you'll definitely need the full opening hours to tackle the many many stalls, we recommend arriving early to find the best deals and avoid the mass crowds. If you get overwhelmed, located just north of the market complex is Chatuchak Park, the ideal place to escape from the madness to enjoy some peace and quiet.
Once you're in the market, it will seem like a never-ending labyrinth! Handily, there's a clock tower that sticks out above the stalls that you can use as a reference point, plus, the enormous complex is split into 27 sections that make a lot of sense once you've got the hang of it: 
Clothes and accessories (sections 2–6, 10–26)
Handicrafts (sections 8–11)
Ceramics (sections 11, 13, 15, 17, 19, 25)
Furniture and home decor (sections 1,3,4,7,8)
Food and drinks (sections 2, 3, 4, 23, 24, 26, 27)
Plants (sections 3, 4)
Art (section 7)
Pets and accessories (sections 8, 9, 11, 13)
Books (sections 1, 27)
Antiques and collectibles (sections 1, 26)
Miscellaneous and used clothing (sections 2, 3, 4, 5, 6, 22, 25, 26)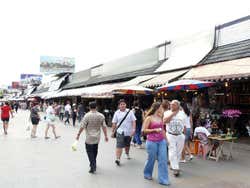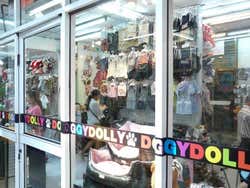 Schedule
Saturday & Sunday: 9 am to 6 pm.
Transport
BTS Skytrain (Sukhumvit line) to Mo Chit.
MRT metro to Chatuchak Park.