Also known simply as Thai Boxing, Muay Thai is a martial art originating in Thailand that has come to be popularly practiced worldwide. It makes for a fascinating evening's entertainment on your trip to Bangkok.
Muay Thai, or Thai Boxing, is a historic martial art dating back to the 19th century, which became widely spread across the world in the 20th and 21st centuries. The sport has also been called the "art of eight limbs", due to the techniques it involves using a combination of fists, elbows, knees, and shins. 
Watch a fight
For martial artists, watching a Muay Thai fight is a must-do experience on your trip to Bangkok. And even if you're not a combat sports fan, you'll be able to appreciate the atmosphere around the ring and the incredible training the boxers go through to compete in this intense sport.
While there are a few different stadiums dotted around Bangkok, the two main ones are Rajadamnern Stadium and Lumphini Stadium:
Lumphini Stadium: 6 Thanon Ram Intra, Khet Bang Khen, Krung Thep Maha Nakhon 10220.
Rajadamnern Stadium: 1 Ratchadamnoen Nok Rd, Pom Prap, Khet Pom Prap Sattru Phai, Krung Thep Maha Nakhon 10200.
A unique experience
If watching a Muay Thai fight doesn't seem enough for you, and you want to know more about this martial art, we recommend checking out our Muay Thai Class, which begins with a dramatic piece detailing the history of the sport.
And if even that isn't enough and you want to get involved, the past five years have seen training camps for English speakers become popular. Classes range from 450 THB (US$ 13) for a two-hour session to 3,500 THB (US$ 100.80) for a week's course with two sessions per day, at the Muay Thai Institute in Rangsit, located about 20 miles (35 km) north of Bangkok city center.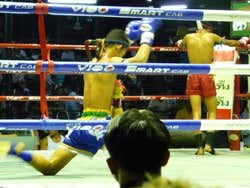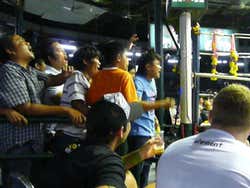 Schedule
Rajadamnern Stadium: Monday, Wednesday, and Thursday from 6:30 pm until 11 pm; Sundays at 3:30 pm and 6:30 pm.
Lumphini Stadium: Tuesday and Friday at 6:30 pm; Saturdays at 5 pm and 8:30 pm.
Price
Between 1,000 THB (US$ 28.80) - 2,500 THB (US$ 72) depending on the location and seat type.
Bangkok Thai Boxing Class 1,250 THB (US$ 36)