Travelling around Bangkok
Bumper-to-bumper traffic, buses with no clear destination, bikes with no helmets... You're going to need this guide to getting around Bangkok! From taxis to trains to tuk-tuks, discover the best way to travel.
There are a few different ways to get around Bangkok depending where you're staying and where you're headed...
Skytrain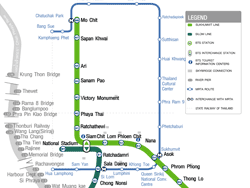 Bangkok Metro and Skytrain map
The Skytrain is an elevated train that is also known as BTS. At the time of writing, there are two lines, the Sukhumvit line (light green) and Silom line (dark green).
They're useful for avoiding Bangkok's crazy traffic if you need to get around "new Bangkok", that is to say, the areas around Silom, Sukhumvit and Siam Square. Trains run frequently between 6 am and midnight, and ticket prices range from 15B to 52B or 140B for a day pass. Ticket machines only accept coins, but the ticket offices will swap your notes for change.
Metro
Bangkok's metro system (MRT) is also good for travelling between the Sukhumvit or Silom districts to reach Hualamphong Train Station. It's cheap: tickets cost from 16B to 42B or 120B for a one-day pass and again, the trains run frequently from 6 am to midnight.
The popular Chatuchak Weekend Market is located at Mo Chit station on the Suhkumvit BTS line and Chatuchak Park on the MRT line. 
Boats
Bangkok is split in two by the Chao Phraya River, and the west bank (formerly Thonburi) is still home to a pretty extensive canal system. One of the best ways (although not necessarily the quickest) to visit sights along the river bank, like the Grand Palace and Wat Pho Temple, is by boat. The main pier (Tha Sathon, or Central Pier) connects with the Saphan Taksin BTS station. 
The Chao Phraya Express Boat (orange flag) departs every 10 - 20 minutes between 6 am and 7 pm. Tickets cost 15B and the boat stops at most major piers between Wat Rajsingkorn in the south of Bangkok, to Nonthaburi in the north.
The tourist boat (blue flag) runs from Central Pier to Phra Athit/Banglamphu Pier (number 13 on our map). It departs every 30 minutes from 9:30 am to 5 pm and stops at 8 main piers on the route. Tickets cost 40B - the 150B all-day ticket offered by touts isn't usually worth it.
To cross the river, there are countless ferries which run every few minutes all day and into the night, charging just 3 B.
Taxi
Travelling around Bangkok by taxi is surprisingly cheap - sometimes even more so than the Skytrain - plus, it's comfortable, easy and the drivers are usually really friendly. 
Taxis have to use their meters - if a driver refuses to do so, find a dfferent taxi! The meter starts at 35B and journeys to most places in central Bangkok will cost between 60B to 90B. Remember that tolls are paid by the passenger. If you can't find a taxi willing to use the meter late at night, there are taxi apps available: Grab Taxi and All Thai Taxi.
Don't expect your driver to speak English - they may not even know their way around Bangkok. An address written in Thai is a good bet to ensure you'll get to the right place!
Tuk-tuks
Those iconic motorised rickshaws are used by locals and tourists alike for short journeys that aren't worth the taxi fare. Tourists, however, are usually overcharged for these noisy and polluted trips! It's better to go at night when the pollution isn't as bad (or to save this experience for another city!) and try and haggle the price down to 60B. Super cheap tuk-tuks are usually too good to be true, and will take you to gem shops and massage parlours in the hope of some commission.
Grab
This new app-based taxi company is a good way to get around Bangkok. journeys are reserved via a mobile application, and the journey has a fixed fare meaning that you'll avoid arguments and haggling with taxi drivers. The application allows payment by card, or you can pay the driver in cash,
Bikes
While cycling has got more and more popular in Bangkok over the years, it's still a bit of a minefield out there thanks to dangerous roads, crazy traffic, sweltering heat and pollution (hopefully the bike trend will help that though!). If you feel the need to pedal around the Thai capital, we recommend booking a Bike Tour with a guide who can show you the safest places to cycle.
Recommendations
We recommend using the metro and Skytrain as much as possible, not only to avoid traffic jams but also for your safety.
In Bangkok taxis can be even scarier than in cities like Cairo. In Bangkok the cars are modern, and the drivers like to drive fast. And the majority of taxis don't have seatbelts in the back, meaning you feel even less safe.
The same can be said too, for the tuk-tuks in the city, where you are the only crumple zone...